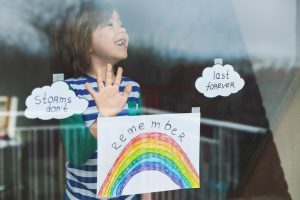 We've countered COVID-19's assault on our physical health by social distancing and working and educating our children from home. But what can, and should, we be doing to safeguard our mental health?
World health experts who have argued for flattening the COVID-19 curve are now warning of a second coronavirus wave of depression, anxiety and emotional exhaustion that could last long after the infectious disease threat has waned.
"It's important to take care of yourself after any traumatic event," says BJ Weller, Director of Canyons District's Responsive Services Department, which oversees counseling and social-emotional supports in schools. "But this health crisis has been particularly worrisome from a mental wellness perspective, because the steps we've needed to take to respond can make it harder to cope emotionally." Social distancing has left many of us socially isolated and economically vulnerable. We are grieving the loss of loved ones and important rituals, from weddings to graduation ceremonies, even as we lose connection with family and friends, the very people to whom we turn to mourn our losses.
But students and parents can take comfort knowing they're not alone, Weller says. "We're all going through this together, and help is available." Throughout the soft closure of Utah's schools, CSD social workers, psychologists and counselors have been proactively checking-in with students by email or phone. As the growing need for mental health supports has become apparent, the Department of Responsive Services is now launching an online behavioral supports request form that parents can easily access from home.

Request Social Emotional / Mental Health Support

Continue reading